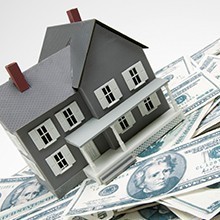 Making informed decisions requires information.  A payment calculator and current rate estimates are included below.  A mortgage payment is often referred to with the acronym PITI, which break down to Principal, Interest, Taxes, & Insurance.  When you escrow your Taxes & Insurance, they are spread out over the year and included in your mortgage payment.  These funds are held in your escrow account until Taxes & Insurance payments are made on your behalf.  PMI or Private Mortgage Insurance may be required, depending on your loan type and down payment amount.  Some neighborhoods also include an HOA fee.  
Please adjust mortgage calculation defaults to your specific projections, or play with the values so you have an idea of ballpark ranges.
*Although we try our best to provide accurate calculations, please realize that these calculators are imperfect widgets and you should consult your Real Estate and Mortgage Professionals for the most accurate estimates before making a final decision
Catalano & Associates Realty has a great relationship with multiple different lenders.  Please reach out to us if you would like names of some lenders that have been reliable, reachable, and have successfully helped our clients in the past.  We are happy to work with any lender of your choice.